1086 Domesday Book - Betley, Balterley and Audley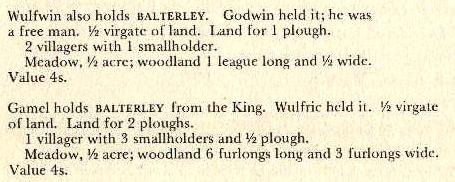 From a draft translation prepared by Alison Hawkins and Alex Rumble. Reproduced by kind permission from the Phillimore edition of DOMESDAY BOOK (General Editor John Morris) Volume 24 Staffordshire, published in 1980 by Phillimore & Co. Ltd, Shopwyke Manor Barn, Chichester, West Sussex PO20 6BG.
NB: as of 4th August 2006, images of the Domesday Book itself can be seen by visiting the website of the National Archives, Kew:
www.nationalarchives.gov.uk/domesday
(there is a charge per image).